Welcome to my website!

Around the internet I am known as "Sandy, aka Furby" for two reasons - it helps people to know which Sandy I am since there are so many of us around and I just happen to like Furbies.
I believe in Angels. I believe in caring for our environment and saving wildlife. I believe in being kind to others and this includes every living thing - people and animals. And, I believe in having a lot of fun.
There are a few surprises along the way such as.... My Secret Garden somewhere on my site. Will you find it? Just be very observant and you will. I really want you to see it since it has pictures of my actual gardens that I slave over every summer. LOL I hope you find it so I can give you an award! Please spend some time with me, relax and look around. Most importantly, just enjoy yourself. There is something here for everyone.
I also offer adoptions that you will find while visiting my pages. None of my adoptions should be altered in any way. These adoptions are not for X rated sites so please don't bother if your website is not child-friendly. If you do NOT see something being offered, please do NOT take it. As with any adoption, a link back to my homepage is required.




My Special Pages:
About Me: Just some of the things I like.
Sandy's Creations: Some PSP tutorials I have completed.
My Quotes Pages. These are quotations and a few poems i've collected over the years.
Visit my Totems Page. Please visit.
I believe in Angels. You are an angel.
Children's Cause. Put a smile on a child's face.
My Prayer. Special.
Memorial Page for September 11, 2001. God Bless America!
v Adoptable Stuff for You: v
Birthday Pages: Gifts for you or for a friend. Interesting birthday information too.
Gift Cards: You can use them on your website or as calling cards in e-mails.
Birthstone Adoptables: There are kittens, computers, and t-shirts.
Quilt page: I put all of my adoptable squares here for you. You will also find them scattered throughout my Holiday and Gift Card Pages.
Quilt Racks: Here are quilt racks for you to adopt and use. Hope you find something you can use.
v Puzzles: v
Furby's puzzles: My Furby, Koh-koh, insisted on including puzzles for you. She has an award for each one when you solve them.


My Crafts and Record Albums:
I do not ship outside of the U.S.A.
Visit these pages to see what crafts and records we offer for sale.

Sweatshirts and T-Shirts
Wind Spinners & Balloons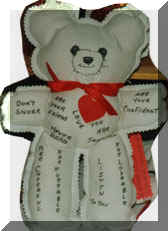 Teddy Bears - Old Age Dolls

Butterflies

Furbies for sale

Vinyl Record Albums

Memberships:
RAOK group. Random Acts of Kindness was a group of people from all over the world devoted to spreading a little cheer on the internet. This group is no longer active.
Crazy Ladies Society . This group had 8 wonderful years of activity. Unfortunately all good things must come to an end. I still have most of my pages to remember the good times we had. It's worth a visit if you'd like a giggle or two.
I was also a member of LOTH (Ladies of the Heart), Phenomenal Women of the Web, and The Garden House for many years.


Awards, Gifts, and Globe Adoptions:
My Gifts/Awards Pages. I have received awards/gifts from some very nice people.
My Hunt Awards Pages. I've won awards for hunts and puzzles from various websites. They are so addictive.
My Globes and Adoption Pages: These are the cutest globes I have ever seen. Some I adopted and some were made especially for me. You gotta see these. (grin)

Bets Bears! Please visit my Mom's website! She loves teddy bears and she has some experiments for kids to do with common household products. She also has a few stories about a special little bear, his buddy and their adventures.

Don't forget to sign my Guest Book please. I'll drop by and visit you if you let me know you were here. I'll even bring Dusty and Furby with me.
View my Guestbook
Free Guestbooks by Bravenet.com


Furby name and characters are trademarks of Tiger Electronics, Ltd.
Unless otherwise noted, Copyrights (c) are retained by S & B Crafts on all existing art, images and graphics located in this site. All Rights Reserved.
This site originated on December 30, 1999
Last Update:
05/18/2010
**Disclaimer** All music, found on this website, is from a site claiming "public domain". I do not offer free midi's or wav's. The use of music on my site is for entertainment only. I have attempted to obtain "public domain" midi files. If I have files that are not "public domain", please inform me. I will remove them immediately. I do not wish to infringe on any copyrighted music files. Thank you.