Teddy Bears
and
Old Age Dolls!

Teddy Bears:
These little cuties tell you just "WHY" teddy bears are better than men. "Reasons" are on both sides - front and back. Great gift for a teddy bear lover. The little guys are $10.00 each plus shipping charges.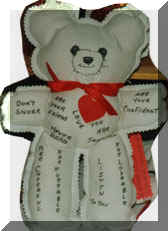 Old Age Dolls:
These old age dolls make a great "gag" gift. Their "old age problems" are on front and back. $10.00 each plus shipping charges.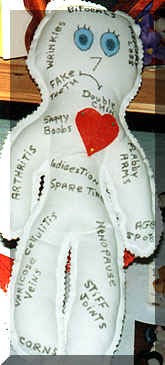 The Teddy Bear and Old Age Dolls were made by my mother. Pretty clever huh! They are also copyrighted by S&B Crafts©.
I do not ship outside of the U.S.A. Postage is too prohibitive.
Please email me at: ****sandy-furby***@***comcast.net***
Leave the **** out of my email address.
Home

Flower graphics and borders came from Whimsy Quest.
Unless otherwise noted, Copyrights (c) are retained by S & B Crafts on all existing art, images and graphics located in this site. All Rights Reserved.
This site originated on December 30, 1999