Welcome to Autumn!

My favorite time of year!
(You may need to turn up your volume if you wish to hear "Autumn Leaves")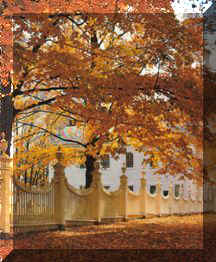 Messages of Autumn
Autumn gives us hints of God's great love
As falling leaves blanket the flowers
And birds are called to warmer climes
To nest in greener bowers -
God cares!
Autumn tells us of God's fatherhood
In the yellow gold of ripened grain.
In fruit trees heavily laden,
In crops matured by sun and rain -
God provides!
Author: Sister Mary Gemma Brunke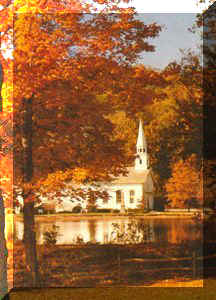 Watching the Earth put on her Festival colors for the Fall Season. The warm breezes. The deep blue sky. The cool evenings. The quiet and peaceful solitude that Fall brings and the splendor of the changing colors. This is the time of year I love the best. It's like the grand finale of the year before the weather turns cold and ...... well, let's not go there! I don't like thinking about winter toooooo soon. Blah!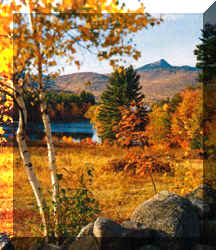 I actually grew my own pumpkins this year. They are small but they will make wonderful Jack O'Lanterns. I tried last year and I got 9 teeny, tiny little pumpkins. Cute they were but hard to draw faces on em. I kept ALL of them in the kitchen window all winter long and they lasted till April. It was just a fun reminder of the change of the seasons and that even though it was mid-winter, I knew Spring would come real soon so I could try again. Look super don't they?? I can see the "faces" on them now. :)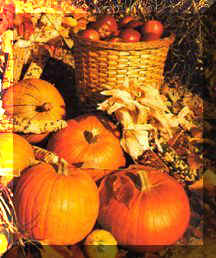 Autumn
Autumn brings treasurers of heart and of hand,
God-given gifts for the service of man.
Beautiful color enriches the scene.
Red leaves and gold now jewel the green.
Skies are much bluer- there's a nip in the air.
Geese travel south where winters are fair.
Signs of the harvest appear in the field.
Crops overflow- abountiful yield!
Food for the table, beauty to share,
Autumn's in splendor...God's everywhere!

by Aron Christopher



This Day

This day, I'll walk to some old shady elm,
Beneath its spreading branches I will lie
While scarlet leaves drift down around my head
And fleecy clouds sail in an azure sky.

This day, I'll walk beside a sparkling stream
That winds its way into the quiet wood
Reflecting in its depth a passing cloud--
On grassy banks find peace and quietude.

This day, I'll climb again on yonder hill
To walk through rustling leaves when trees are bare
To hear the sound of wild geese in their flight
When there's a tinge of autumn in the air.

This day, I'll see in all this beauty near
The peace and joy that nature seems to give,
The morning sun will find a thankful heart
That in this glory God will let me live.

by Laura Hope Wood
Behind the Fall
Somewhere behind the autumn days
The winter travels unknown ways,
Across the fields once lush and green
A little guy - Jack Frost is seen,
He sprinkles white on leaves of gold
At summer's end - so stern and bold.
Behind the fall - October's blend
All nature's beauty God doth lend,
It seems so very short a time
That colors bright are yours and mine,
The harvest stored - the air is chill
With browning grass on yonder hill.
We dream of winter just ahead
While catching leaves of crimson red,
Beneath our feet and all around
So much of beauty doth abound,
And then we hear November's call
As winter comes - behind the fall.
Author: Garnet Ann Schultz

I was so surprised to find this award in my email. Thanks RAOK!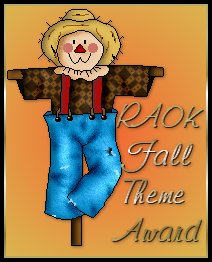 Bunnie had Gramma Hugs bake me these cookies. Yum!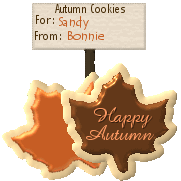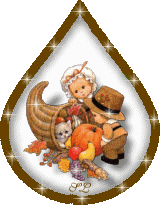 Here's a gift from me to you.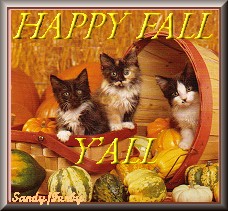 Holiday Index Page
Unless otherwise noted, Copyrights (c) are retained by S & B Crafts on all existing art, images and graphics located in this site. All Rights Reserved.
This site originated on December 30, 1999